A few months ago our school took an initiative to help the unfortunate children from the rural areas of our city to discover and pursue their talents. The high school students were given an opportunity to conduct these service sessions by using their interests and expertise to assist these underprivileged children. I have always had a keen interest in arts and so that's what I chose to teach. It was a three-weekend project, classes taking place for about two hours on both Saturdays and Sundays.
I was the person in charge of my team. This meant that I was responsible for what happened in these classes. We were already given a pre-planned list of activities that needed to be completed day wise. However, the main problem with it was that it was made without knowing their level of understanding and skills. We had to make changes to the plan accordingly. There were about 20 students in my batch, whom we had divided into two groups according to their age. We taught the younger children about shapes and patterns whereas the older ones were taught to use different media which included crayons, oil pastels, watercolors etc.
The learning outcomes achieved were:-
LO2- Demonstrate that challenges have been undertaken, developing new skills in the process. On the first day, I noticed that none of these students were feeling comfortable in opening up to us. To get them talking we decided to make them play a few games. I was lucky to have a friendly team who could speak in Gujarati which was the only language that these kids could understand. Soon everyone felt welcomed and started sharing ideas, so much so that we had to separate few of them so that they would pay attention.
LO3- Demonstrate how to initiate and plan a CAS experience. As I was the person in charge I had to plan everything starting from the activities to what materials we needed. We had to communicate with our school store to ask them if the materials we required were present in the school. If they were not available then I had to make sure that they place an order for the same.
To make the classes more fun and interesting we made a game out of it, which was basically a competition and whosoever's task seemed the best would win. I had to decide the prize for the winner keeping in mind that the other children don't feel less special. At last, we decided to give the winners a box of crayons and everyone else, a set of basic stationery items. Their wide smiles filled our hearts with joy.
LO4- Show commitment to and perseverance in CAS experiences. As mentioned earlier these sessions took place on the weekends we had to make changes in our study schedules. And with the midterms approaching soon it wasn't an easy thing to do but seeing the innocence and excitement of these children the time spent in service session didn't seem wasted. On Sundays, the sessions took place early in the morning. I was furious at the school for taking away the only day where we got to sleep until noon but after attending the service sessions I realized that it was all worth it.
LO5- Demonstrate the skills and recognize the benefits of working collaboratively. As there were a lot of children we made them sit in groups of 5 and one of the team members would cater to each group. The sessions wouldn't have been very effective if it weren't for my team members. The remaining members would plan for the next activity to be done. Working collaboratively enhanced our communication skills and built trust.
LO7- Recognize and consider the ethics of choices and actions. One of the important aspects that needed to be taken care of is that we had to consider how they would feel by our actions. These students came from a lower economic stratum and so it was our responsibility to treat these children equally without making them feel deprived or less fortunate. Crossing this hurdle was not an easy task. We had to think before every step we took and every word we spoke. Also, as mentioned earlier, we wanted to give them basic stationery items so that they can keep practicing their talent at home, we gave it to them as gifts so that they don't feel beholden or less fortunate.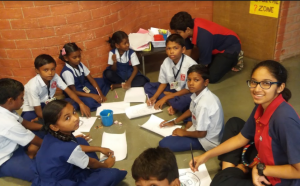 Getting to know these wonderful children, listening to their stories and teaching them something new was a very gratifying experience and I am glad I got the opportunity to be a part of something like this.