As part of our English Language and Literature course, we were introduced to Language in a cultural context. This allows us to get an exposure to works based on different cultures and the kind of language these cultures use. Taking this up a notch, the Language team decided to put together an opportunity for Project-based learning to foster ATL skills as well as International-Mindedness among us.
LO 1 – Identify own strengths and develop areas for growth
The work was student-led, my strengths under the project-based learning were the creative skills I had, we had 3 group members in our group and I was one with the creative skills.
I am very good at working collaboratively in a team, I was part of various events in school and, I identified my strength. It is important to know our strength because we would have more experience in that matter and can help the team more effectively.
LO 2 – Demonstrating that challenges have been undertaken, developing new skills in the process.
Komorebi involved a lot of challenges. Few are listed below:
Many of the groups had 5 to 6 members in them, but Our group only had 3 members. This was the biggest challenge that we faced, there was a lack of creative ideas due to fewer members. The hard-working ones in our group were only me, while the rest weren't helping much, and because of that I had to do a lot of work
The group members of my group weren't taking this project seriously, they were procrastinating a lot and because of that we even missed some of our deadlines.
The regions which we were given were Antartica and Scandinavia, wherein there was not a lot of information available about their culture so it was hard to get that and then present it.
LO 3-  Demonstrate how to initiate and plan a CAS experience
Initially, I was a little bit confused about which activity I should choose for my CAS project. I had this project in mind and also another activity in my mind but then I opted for this activity as my Project. Why I did this was a question that my supervisor wanted to know. I did this because after reading about Scandinavia, I was curious about their culture and what is unique about that. It took me 2 weeks to initiate my CAS experience.
The planning had many steps:
First was to ask my supervisor whether I can take this activity as my CAS project or not
When she said Yes, I decided that now I should start researching about my country and their culture
All the research was gathered, we had all the resources and we were also ready to present but then suddenly there were some changes to be done, at the last moment we were told to switch our classes, we were asked to take all of our belongings into the next, make everything as it was earlier in 20 mins and then be ready to present
It didn't go well at that point in time, we were all exhausted but we had to manage all of this stuff to complete our CAS experience.
Yes, We did manage and it was a successful event.
LO 4- Show commitment to and perseverance in CAS experiences
Commitment was highly needed, as mentioned earlier that we had fewer members in our group, because of that hard work increased and to show that determination was highly required. I used to come to school in the morning for the planning of this project with my peers, As I was a leader we were compulsorily asked to come in the morning and work with your group.
We also had to give various ideas for our groups and give time to them for decorations and to prepare a small speech for people who visit our booth. For me, it was easy to commit things, as I manage my time extremely well, and I prioritize my work according to the need. To work in a group we need to help everyone and I helped my group for decorations.
LO 5- Demonstrate the skills and recognize the benefits of working collaboratively
I was good at creativity work under my group, one was good at collecting information and the other was good at helping each other when needed. It was a team of 4 and we all had different skills that we had to use in this project. Communication was a must as you had to present and talk about your country's culture with different people. Over here teamwork was very helpful as in when a group member of ours was not able to talk or maybe sometimes got scared the other member can continue from that time and we used this many times during our presentation.
We didn't let people thought that she or he has made a mistake it was just covered up by our friends, it was easy to present when you work collaboratively, it was an advantage.
LO 7- Recognize and consider the ethics of choices and actions
I had to research the culture of Scandinavia keeping in mind the ethics and morals.
For research, I had to use the internet as a source of information, and there might be chances that the information present on the internet might be false, and thus ethics and morals would not be considered here. Most of the information available on the internet are not true and sometimes are biased, I asked my supervisor about which sites I should work on and are reliable keeping in mind the ethics.
Plagiarism is a big issue when you are using information from the internet and then not citing them, I had mentioned to all of my members that whichever site you use just mention that in the bibliography, ethics and morals were used here.
Learner Profile:
Communicators, Knowledgeable and Inquirer – Researching about the information about Scandinavia's culture needed all of these learner profiles Reflective – after the event, we analyzed our performance, what were the things we were good at and on what things we had to work upon.
ATL Skills:
Organising skills, Collaboration skills, Communication Skills, Information literacy skills, and Creative Thinking skills.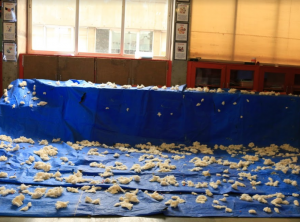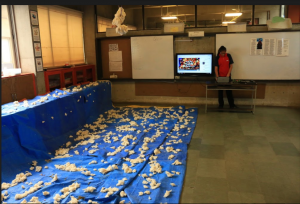 Planning of CAS: https://docs.google.com/document/d/1TRkTGdTX_LWJgyGE_-yWJ5Zbi-Ejmjdtb29zLCpvSF4/edit